Standing Partner Acro Series
Sundays | 17 Uhr
18€ per class or €50 per 4 classes
Our standing acro(-yoga/-batics) classes are designed to take participants from zero to hero over the course of a few weeks. Each set of 2-4 weekly classes will focus on a specific standing skill, such as two-high, foot-to-hand, or hand-to-hand, with each class in the set becoming progressively more advanced. This is to allow total beginners to join, while also teaching new skills for those with some previous knowledge already.
As each class will build upon the skills learned in the previous class(es), we generally recommend people to attend all classes within each series. However, we understand not everyone has the time or need to do so and thus you are welcome to join any single class. However, beginners in a particular skill should take at least the first class in a series before trying any of the later classes.
Click below for more info on what we're working on in the next couple of weeks. For any questions on whether a particular class would be suitable for you, please don't hesitate to write us.
You do not need a partner. Registration in advance is not necessary but appreciated.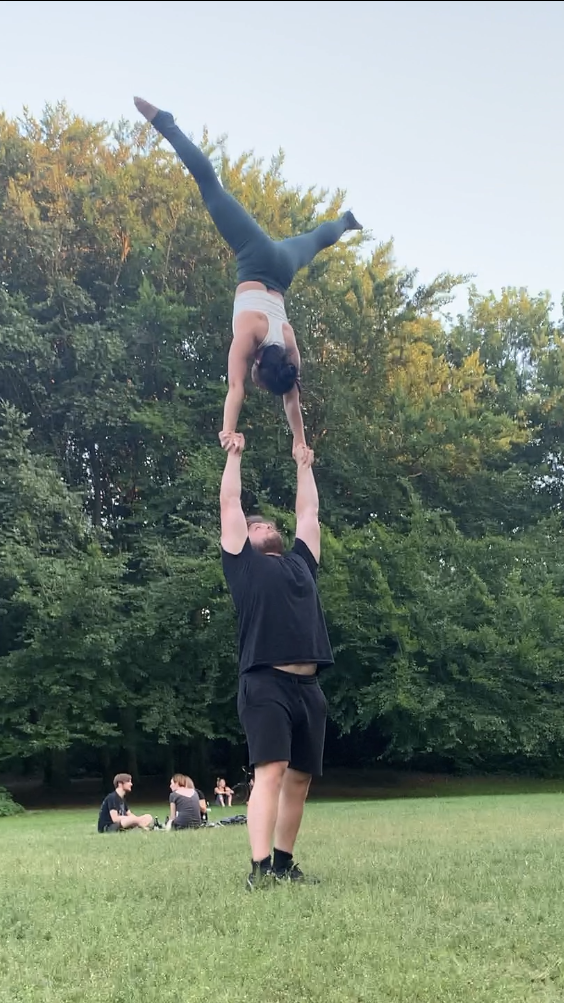 Acro Workshops: Flows & Pops
with Dina & John
Samstag, 15. Januar 2022 | 10:30 to 17:00 Uhr
25€ per person/workshop or 40€ per duo/both workshops
Join us for 2×2,5 hours of acroyoga flows and pops — perfect for beginners and intermediates looking to polish their skills!
The first workshop will focus on flows using basic acro elements as a jumping-off point to move between positions, while the second workshop will review the basic principles of pops and then introduce some fun ways to work with pops beyond the basics of bird-throne-whale. Choose one workshop or both, but no partner required!
Sensual Shibari x Acroyoga Workshop
with Mark
Samstag, 29. Januar 2022 | 14:00 to 16:00 Uhr
25€ per person or 40€ per duo
Learn about and practice the Japanese art of shibari, or meditative rope bondage. Sensual Shibari was developed by Mark Scherer as a mix of rope work, yoga, partner dance and other elements. The main focus and intention here is to leverage the energy between two people—one active (leading), the other passive (following)—to create a figurative dance in ropes. And in this workshop for the acroyoga community, there will of course be some crossover into acroyoga! We will work in pairs on a platonic, non-sexual level, with spotters as necessary.
Thai Yoga Massage Workshop with Eva
Samstag, 05. Februar 2022 | 15 to 17:30 Uhr
25€ per person or 40€ per duo
Back by popular demand!
This workshop explores massage techniques where the receiver is in the supine position, which is especially comfortable. We will apply stable as well as dynamic techniques and use acupressure when working with the head. If you practice yoga you will recognize many postures/asanas, but this is not a prerequisite!
For those who joined the last workshop in supine position: There will be new treats in store for you! We will deepen some exercises from the previous workshop and learn new ones, such as spinal twists, lateral stretches and facial massage elements.
Participation in previous workshop not required.