Standing Partner Acro Series
Sundays | 17 Uhr
18€ per class or €50 per 4 classes
Our standing acro(-yoga/-batics) classes are designed to take participants from zero to hero over the course of a few weeks. Each set of 2-4 weekly classes will focus on a specific standing skill, such as two-high, foot-to-hand, or hand-to-hand, with each class in the set becoming progressively more advanced. This is to allow total beginners to join, while also teaching new skills for those with some previous knowledge already.
As each class will build upon the skills learned in the previous class(es), we generally recommend people to attend all classes within each series. However, we understand not everyone has the time or need to do so and thus you are welcome to join any single class. However, beginners in a particular skill should take at least the first class in a series before trying any of the later classes.
Click below for more info on what we're working on in the next couple of weeks. For any questions on whether a particular class would be suitable for you, please don't hesitate to write us.
You do not need a partner. Registration in advance is not necessary but appreciated.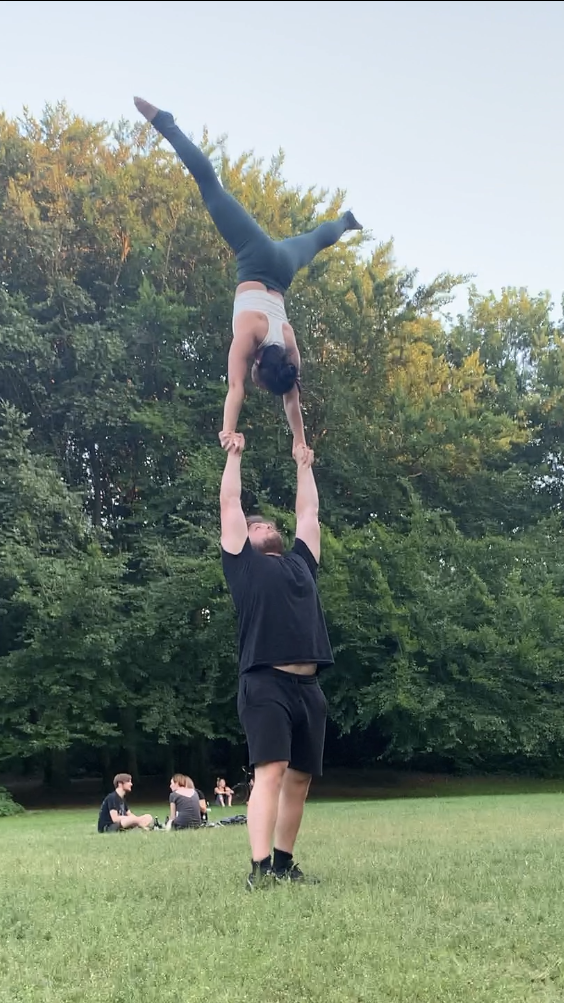 Beginners Acroyoga Workshop
Samstag, 10. Juli 2021 | 11:00 to 13:00 Uhr
25€ per person or 40€ per duo
Forget doing yoga on a mat…do yoga on a friend! Come join us for an afternoon of acroyoga — learn to lift others up and be lifted! We will introduce techniques for the three main roles in acroyoga (base, flyer and spotter), practice some not-your-everyday-basic poses, and cool down with some partner-assisted therapeutics. This workshop is best suited for first-timers and those who may have had some training but would like a more technical introduction. Come alone or with a partner and make new friends!
Partner Akro Workshops –
H2H mit Lukas & Marc
Samstag, 24. Juli 2021 | 10 – 14 Uhr (Basic) | 15 – 19 Uhr (Advanced)
€50 pro Workshop or 80€ für beide
€40 / €70 early bird bis 10. Juli!
In beiden Workshops widmen wir uns an der Partnerakrobatik auf jeweiles verschiedenen Leveln. Wir werden nicht nur physisch anstrengende Sachen machen, sondern auch Tools geben um eine nachhaltige und gesunde Praxis zu kultivieren. In beiden Workshops werfen wir einen Blick auf:
Vorbereitung und Stärkung von Handgelenken und Schultern
Krafteffizienz
Ansteuerung & Schlüsselelemente
English translation available for both workshops; click below for more information!