Partner Akro Workshops – H2H mit Lukas & Marc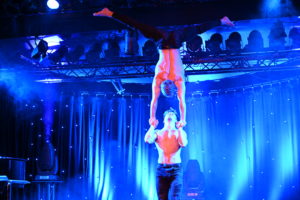 Samstag, 24. Juli, 10-14 Uhr (Basic) & 15-19 Uhr (Advanced)
Saturday, 24 July, 10a.m. – 2p.m. (Basic) & 3-7p.m. (Advanced)
50€ per person per workshop / 80€ for both
BE AN EARLY BIRD! Book by 10 July and received 10€ off!
In beiden Workshops widmen wir uns an der Partnerakrobatik auf jeweiles verschiedenen Leveln. Wir werden nicht nur physisch anstrengende Sachen machen, sondern auch Tools geben um eine nachhaltige und gesunde Praxis zu kultivieren. In beiden Workshops werfen wir einen Blick auf:
Vorbereitung und Stärkung von Handgelenken und Schultern
Krafteffizienz
Ansteuerung & Schlüsselelemente
In both workshops we dedicate ourselves to partner acrobatics for different levels. We will not only do physically demanding things, but also teach tools that will help cultivate a sustainable and healthy practice. In both workshops we take a look at:
Preparation and strengthening of wrists and shoulders
Efficiency in power and strength
Control and key elements
Partner Akro Basic (10 – 14 Uhr)
Hierfür benötigst du keine vorkenntnisse, es ist jedoch sinnvoll, wenn du einige Erfahrung in anderen Sportarten hast. Vor allem Acroyoga kann hier von Vorteil sein. Wir werden in diesem Workshop vor allem folgende Themen angehen:
Druckverteilung in der Hand und Handpositionen
Wie bekomme ich Kraft für Hand-to-Hand (H2H)
Liegendes H2H mit geb. Armen
Liegendes H2H mit ausgestr. Armen
Schulter auf Schulter
Erste Schritte zum stehenden H2H und Eingänge.
Aus langjähriger Workshoperfahrung können wir sagen, dass meist auch andere Themen oder Wünsche der Teilnehmer aufkommen, auf welche eingegangen wird, insofern sie dem Großteil der Gruppe dienen.
Partner Akro Advanced (15 – 19 Uhr)
In diesem Workshop gehen wir davon aus, dass du schon etwas H2H Erfahrung im liegen und vielleicht im stehen hast. Wir werden vor allem folgende Themen bearbeiten:
Kurze Aufwärmung mit Liegendem H2H und in extended schieben
Freies Schulter auf Schulter
Podsechka Vorbereitung und Aufschwung
Partnerakrowaagen
Über Lukas und Marc
Lukas und Marc sind zwei aufstrebende Berliner Artisten und Coaches. Durch ihre Liebe zur Bewegung beschäftigen sie sich viel mit einzelnen Details und bringen so Verständnis in komplexe Übungen. Beide schöpfen aus über 12 Jahren Trainingserfahrung und können dadurch mit Feingefühl auf Problemstellungen eingehen. Performancetechnisch bespielten sie unter anderem das "Theater Kehrwieder in Hamburg", "Das Supertalent", das "Pfefferberg Theater", das "Berliner Ensemble" oder auch das Tipi am Kanzleramt und einige mehr.
English translation available for both workshops.
Partner Acro Basic (10 a.m. – 2 p.m.)
Prior knowledge is not necessary for this workshop, but it helps if you have some experience in other sports. Acroyoga in particular can be beneficial. In this workshop we will mainly address the following topics:
Pressure distribution in the hand and hand positions
Getting the strength for hand-to-hand (H2H)
L-basing H2H with bent arms (low H2H)
L-basing H2H with straight arms (extended H2H)
Shoulder to shoulder
First steps and entries to standing H2H
From many years of workshop experience, we can say that other topics or wishes of participants will arise and be covered, insofar as they serve a majority of the group.
Partner Acro Advanced (3 p.m. – 7 p.m.)
In this workshop we assume that you already have some H2H experience in L-basing and perhaps standing. We will mainly work on the following topics:
Brief warm-up with L-basing H2H
Free shoulder to shoulder
Podsechka preparation and entry
Partner acro balances
About Lukas and Marc
Lukas and Marc are two aspiring Berlin artists and coaches. Through their love of movement, they deal a lot with individual details and thus bring understanding into complex exercises. Both draw from over 12 years of training experience and can therefore deal with problems with sensitivity. In terms of performance, they performed at the "Theater Kehrwieder in Hamburg", "Das Supertalent", the "Pfefferberg Theater", the "Berliner Ensemble" or the Tipi at the Chancellery and a few more.