Patrick
ACROYOGA & PARTNER ACRO
Don't be afraid to fail, otherwise you don't learn anything new in life. Patrick is a life-long learner who is always trying new things. In the past he has been a climbing guide, kayak, canoe and rafting guide, outdoor guide, German teacher, and yoga teacher. He is now focusing on acroyoga and helping other people to feel the same passion he feels when he is flying people.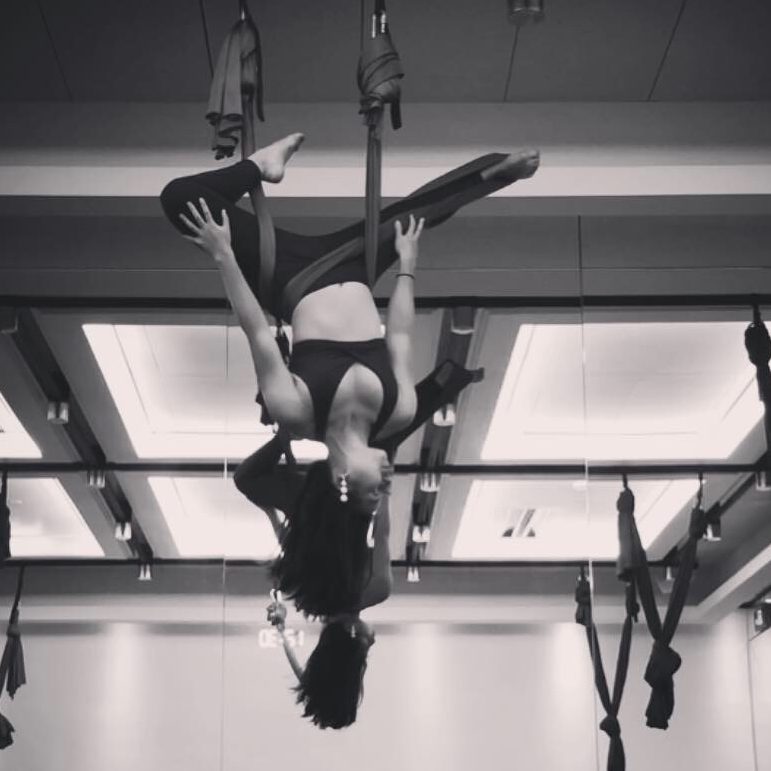 Johanna
ACROYOGA & PARTNER ACRO
Johanna discovered acroyoga by accident during a handstand workshop and was immediately drawn to the playful energy created among total strangers. A former child gymnast, she was also thrilled for a chance to fly through the air again. Since then, she has enjoyed discovering new limits for herself – and the thrill of helping other people do the same.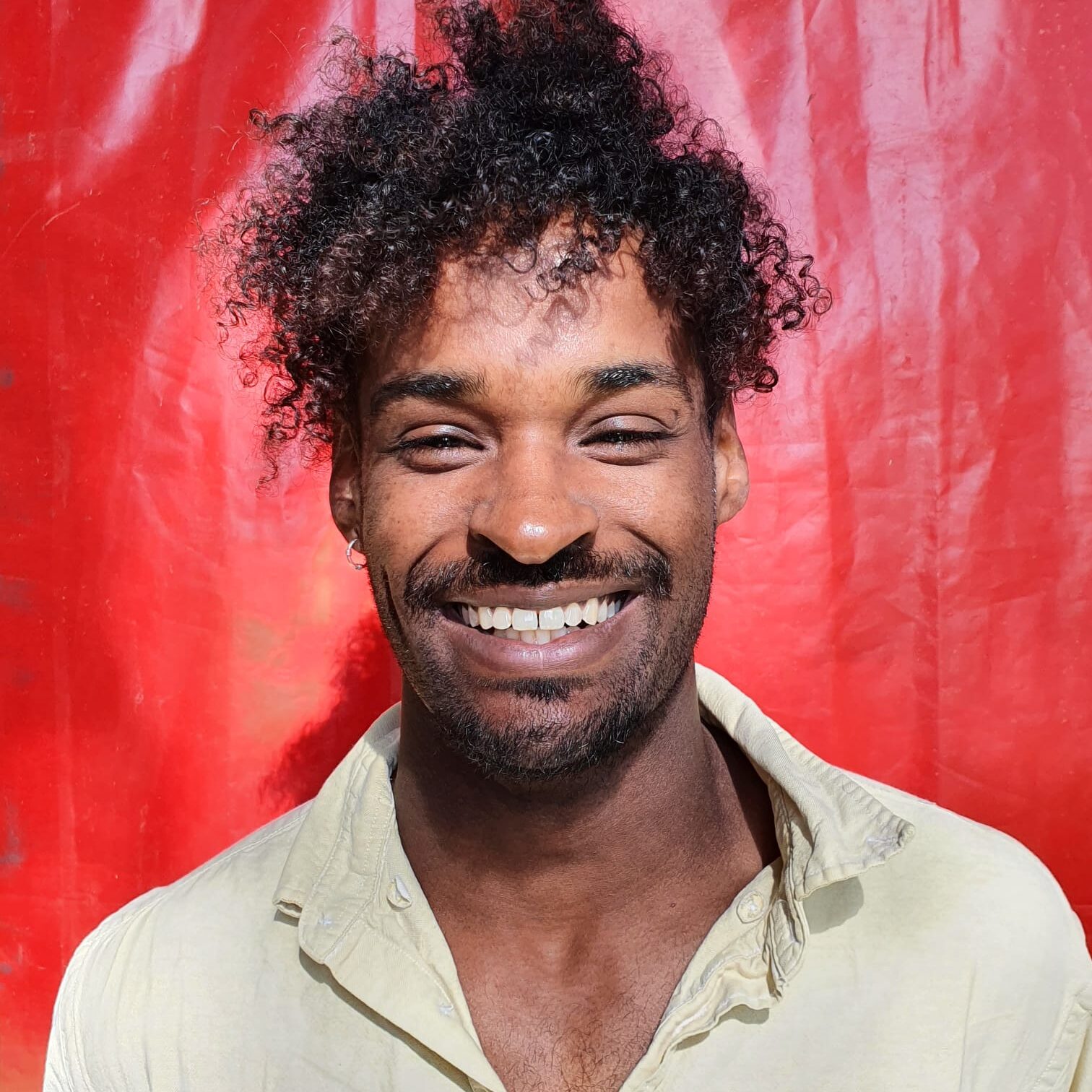 Lele
MOVEMENT & HANDSTANDS
Lele is a performer, movement and dance teacher who finished his studies at Die Etage in 2020. His passion for movement began at an early age, with capoeira, parkour, floor acroabtics, and finally contemporary dance. During the last eight years, he has shared his wide experience with amateurs, professionals, children and adults, always trying his best to catch one's individual needs and keeping a motivating and fun spirit.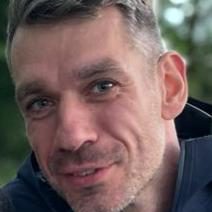 Maik
PARTNER ACROBATICS
Originally from jiu jitsu and muay Thai, Maik has over 12 years of coaching experience. In 2018 he discovered his love for partner acrobatics and especially standing acrobatics. The unique combination of body awareness, trust, communication, aesthetics, and playfulness made him dive deep into the rich world of acrobatics. Combined with his love for teaching and experience, Maik offers a fun and playful access to partner acrobatics.
Lea
DANCE
Lea is a dance pedagogist, coach, and performance artist based in Berlin. She's been dancing her whole life, focusing on jazz dance, contact improvisation, improvisation, and flow arts. She trained in dance pedagogy, systemic life coaching, and trauma-sensitive spaceholding. She is currently studying to become an integrative dance therapist. Lea likes to play and explore and to create a safer space for personal growth. She hosts regular workshops and retreats in Berlin, as well as 1:1 sessions.
Katharina
MOVEMENT & HANDSTANDS
In her movement practice, Katharina combines elements from vinyasa yoga with more open movements and yoga-therapeutic aspects. She calls this "yoga out of the box". Katharina wants to support you in exploring your own physical and mental body, your movements and possibilities, so that you find your own flow – from the mat into daily life. As a movement and meditation instructor in Berlin, she also hosts retreats, and gives 1:1 sessions.
Hanna
FLEXIBILITY
Hanna is a Berlin-based circus performer and trainer specializing in contortion and straps. She discovered her passion for circus and movement at a young age and followed this dream until she completed her three-year artistic education in Berlin in 2022. She has been sharing her love for movement and fascination with exploring the limits of her body for years in her classes with children, professionals and amateurs.
Leila
YOGA
Leila is a freelance dancer based in Berlin. In 2014, she began her studies in contemporary dance at Iwanson International in Munich, before moving to Barcelona ​​to complete her professional studies at the Varium and then in Palamós as part of the CobosMika Company Seeds training. She has focused on improvisation, acting, and partnering. In 2018, she was certified as a yoga teacher in Rishikesh, India.
Sarah S
YOGA
Sarah met yoga in 2016 and fell in love with it as a practice of (self-) compassion, on and off the mat. Inspired to share what worked for her, she studied traditional hatha yoga in India and completed a course on the Science of Well-Being and Yoga for Kids. In her classes, she likes to marry ancient teachings with contemporary science and playful curiosity.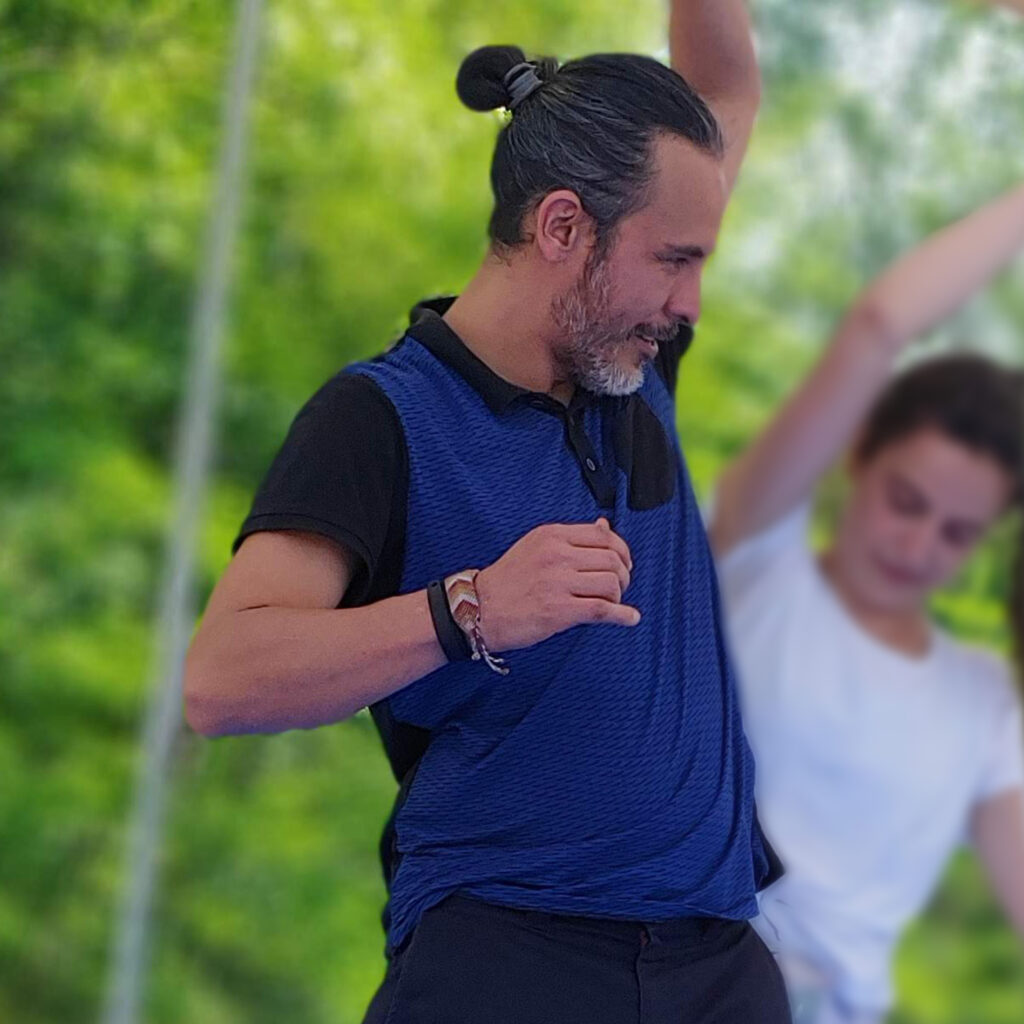 Jorge O
MOVEMENT
Jorge began his movement journey as a child in a unique playground: the Colombian Amazon. He has a long and intense history in competitive sports like mountain biking and squash, and has proven many times that he can start fresh and reinvent himself. After moving to Germany, he became passionate about capoeira, dance, and the Fighting Monkey practice. You can currently find him in Berlin, where he works as movement and sports coach using the principles of FM and his own experience. Among other roles, he is also an experienced software engineer and a father.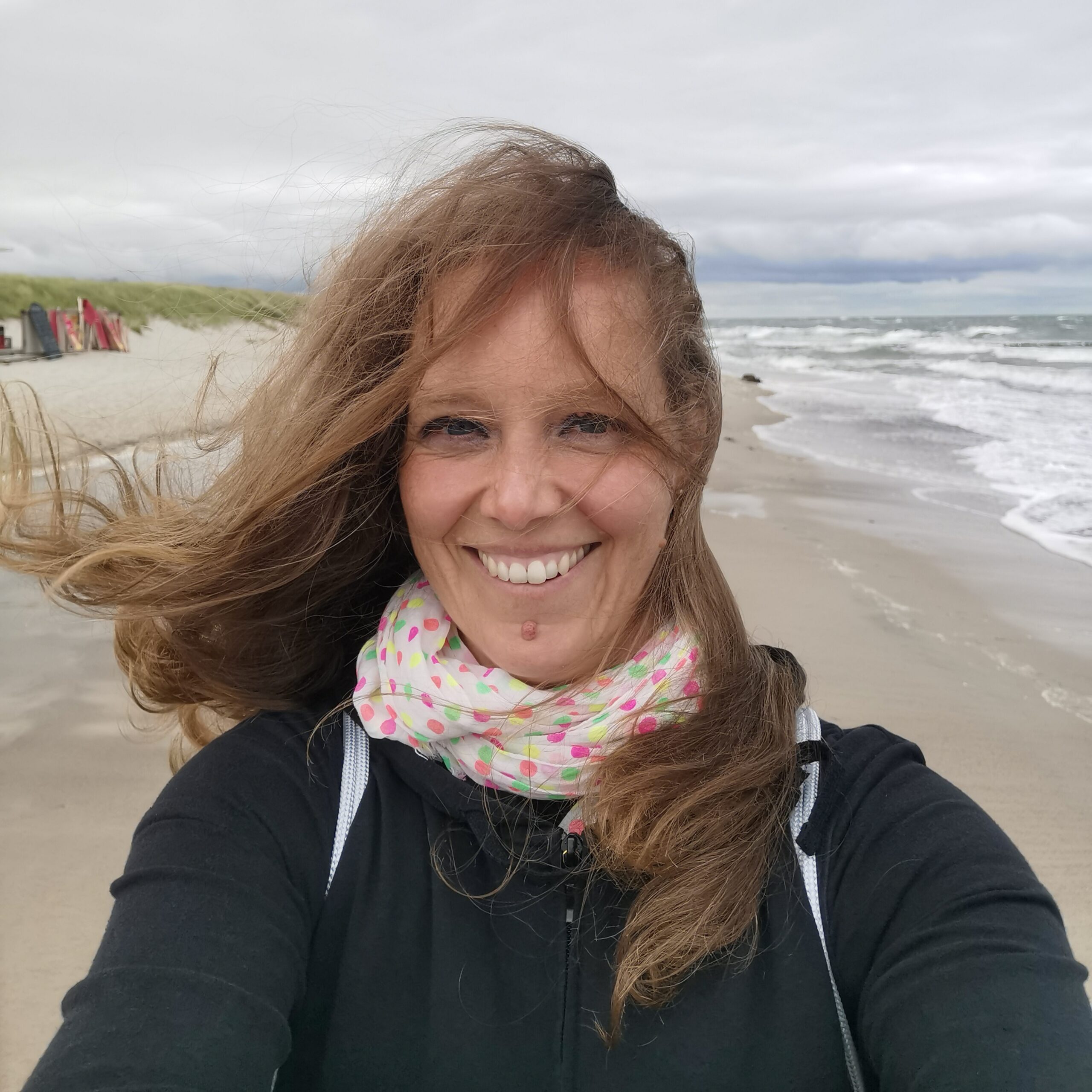 Julia
YOGA
Seit ihrer Ausbildung zur Physiotherapeutin 2003 fasziniert Julia der menschliche Körper und seine Bewegungsmöglichkeiten. Daher hat sie Yoga erstmals 2004 ausprobiert. Yoga hat sich für sie als ein Weg gezeigt, ein Weg der körperlichen Praxis, der Erfahrung des Atems und der Stille, dem Präsentsein, der Verbindung mit ihr, der Selbstfürsorge und dem respektvollen und achtsamen Umgang mit der Welt. Yoga stabilisiert sie in schlechten Zeiten und beflügelt sie in guten Zeiten, lässt sie täglich wachsen und sie selbst immer wieder neu spüren und entdecken. Das möchte sie weitergeben, in ihrem Unterricht, in ihrer Arbeit als Physiotherapeutin und im täglichen Miteinander.
Misa
FLEXIBILITY & YOGA
Misa was born in Belgrade into a family of athletes who dedicated most of their life to sports. Prolific in sport from his early days, he explored martial arts and acrobatics (capoeira, karate, kung fu and gymnastics). He fell in love with yoga happened while studying sports on the faculty of sport and physical education. Since that time, Misa has been an avid explorer of yogic disciplines. He obtained his yoga teacher certification in hatha and ashtanga from the Rishikul Yoga Shala in Rishikesh. Today, he strives to continuously improve his skills and guide his students safely by using yoga in conjunction with gymnastics strength drills and contortion principles of flexibility.
Felicitas
FLEXIBILITY
Felicitas is a multidisciplinary artist and therapist who is strongly influenced by dance and movement. Her practice spans the world of social practice and spatial practice — unifying them into one cohesive artistic and physical language. In 2019, she founded Movement Unlimited, a concept connecting all imaginable and non-imaginable possibilities of expression and research without any limitations.
"As a trainer, artist, therapist, and human being, going beyond my personal boundaries is what characterizes me, and I want to encourage others to do the same."
Eva S
YOGA
Initially, yoga was something Eva did to strengthen her back and a form of workout. But after a burnout and diagnosis of chronic disease, her relationship to yoga changed drastically. Now it is something that brings her home to her body and a conscious act of self-love. Eva teaches soft and somatic yoga sequences with influences of the embodied yoga principles and other embodiment techniques. In her own practice, she has specialized in guiding women back to their bodies, their femininity, and ultimately themselves through yoga and feminine embodiment coaching.
Jorge B
PILATES & MARTIAL ARTS
Jorge is a Brazilian freelance artist currently based in Berlin. He completed his bachelor's degree in physical education and is a certified Pilates and kung fu teacher. Since 2012, he has been the director or co-director various collectives for art and performing arts, including the Baillistas Collective, Ìdrima, and the dispersal.collective. In 2016, he moved to Germany, where he obtained his master's in contemporary dance education. His independent work focuses on the translations of somatic practices, seeking to re-signify symbolic aspects of contemporary corporeality.
Paola
DANCE
Paola is a dance teacher, performer and choreographer. She studied dance education, dance therapy, choreography and various dance styles and movement practices at the University of Malta, where she graduated in 2022. She has worked with international choreographers such as Ricardo de Paula, Jorge Crecis and Francesca Tranter and taught contemporary and acro dance classes to children and adults in Malta. She likes to teach to people who are new to dance or have limited experience with it, accompanying them through the journey of discovering of themselves and their bodies through movement.
Sarah R
HANDSTANDS & FLEXIBILITY
Most people dance on their feet on the ground, but Sarah decided to change her perspective of the world, and in turn decided that dancing with her feet in the air looked like much more fun. She moves with the rhythm of the music and lets her body tell a story without saying a word. Originating from Switzerland and with a background in gymnastics, Sarah found a passion for circus at a young age. This led her to train at Die Etage in Berlin, where she specialized in hand balancing and Washington trapeze. She performs for anyone one who is willing to be entertained. With a passion for music and movement, she expresses herself in an honest and carefree manner.
Elizaveta
DANCE
Elizaveta studied classical ballet for nine years, including seven years at the Moscow State Choreography Academy of the Bolshoi Theatre. After completing her studies, she moved to Berlin to pursue contemporary dance. She has performed in "The Shape of a Dream" by Sasa Queliz, "Now" and "Maybe Tomorrow" by Johannes Wieland, and "M.O.S.T" by Chaim Gebber, among others. Besides teaching contemporary dance and improvisation at various studios in Berlin, she is also collaborating with many artists on various photo and video projects, for example to explore the relationship between dance and architecture.
Maria
FLEXIBILITY & YOGA
Maria came in touch with yoga for the first time in 2015 and was instantly fascinated how the practice built a tool to reconnect to breath and body, as well as the world around. How it reconnects us to life. The practice has been a constant companion throughout her life since then. She teaches Element Hatha Yoga (Alignment), vinyasa flows and flexibility, and aims to create a good balance between strength and flexibility, as well as fluid movement and held asanas.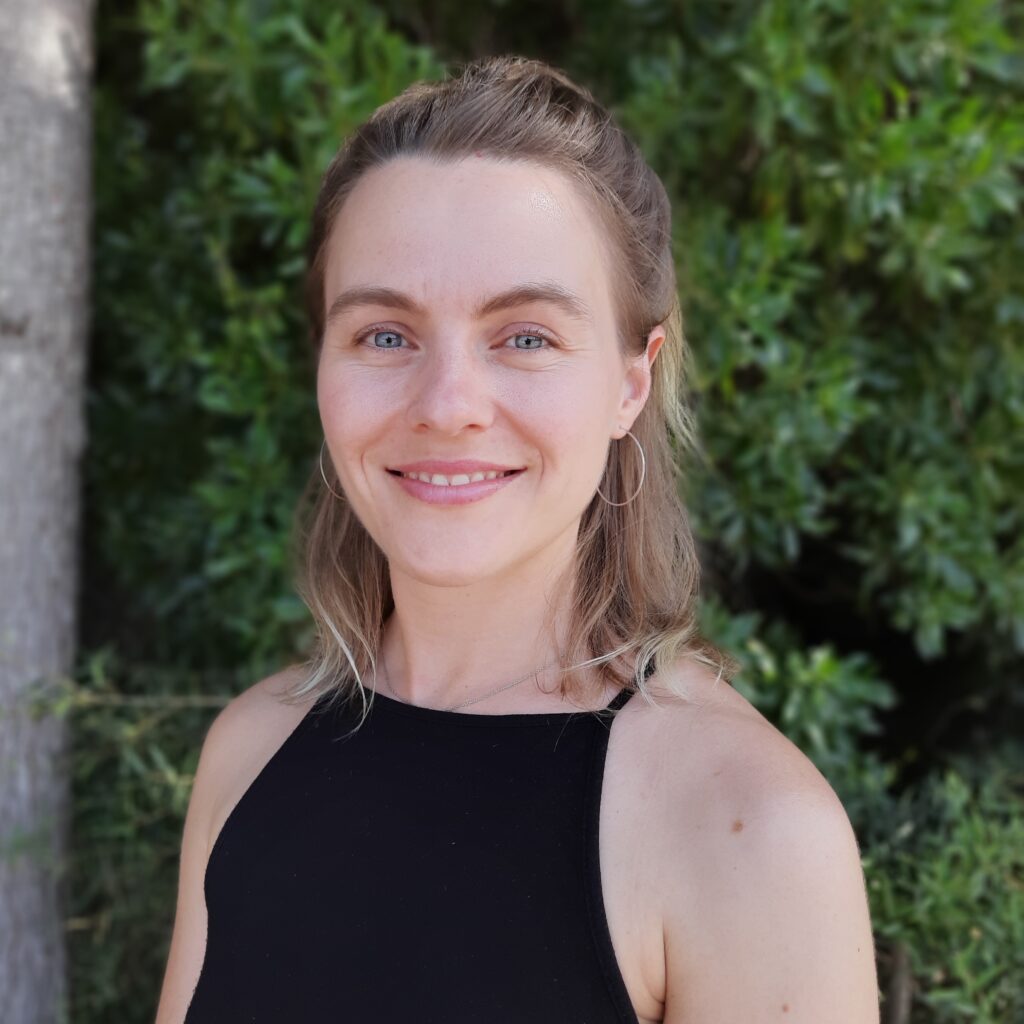 Rebekka
YOGA
Rebekka fand 2013 zum Yoga. Die Verbindung von Bewegung und Meditation, Anspannung und Entspannung fasziniert sie bis heute. Mit der Ausbildung in klassischem Hatha Yoga bei der Berliner YogaCircle Akademie erfüllte sie sich einen lang gehegten Traum. In ihren Kursen legt sie neben einem intensiven inneren Fokus besonderen Wert auf eine anatomisch gesunde Ausrichtung, durch die sie selbst viele Asanas ganz neu entdeckt hat.
Kathrin
MEDITATION
Fate led Kathrin to breathwork when she was at a turning point in her life. She discovered biodynamic breathing — a "simple" method that allowed her to uncover and transform her inner issues. Her work as a certified masseuse allows her to incorporate bodywork into her breathwork sessions, merging the best of both worlds and bringing the body and mind in harmony. Her goal is to support you on a deep level so that you can unleash your full potential and lead a fulfilling life.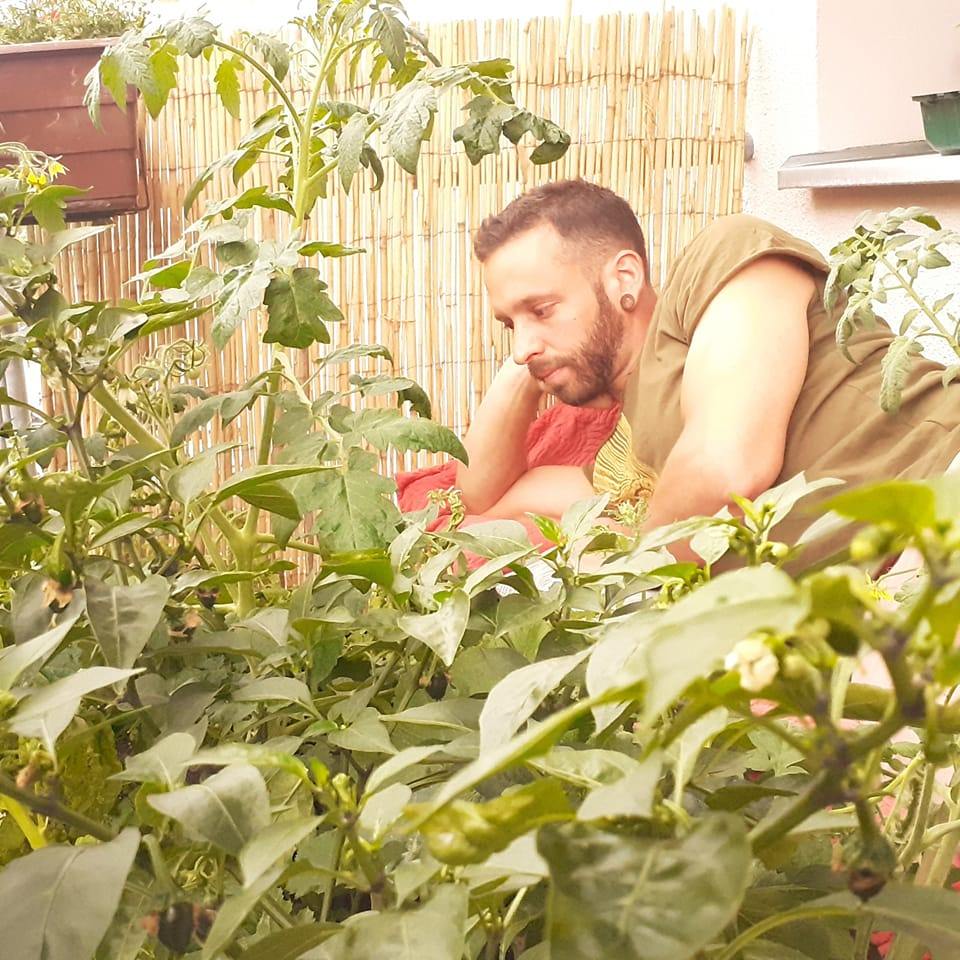 Milán
MOVEMENT
Milán is a movement researcher, evolutionary biologist and a generalist. He aims for interdisciplinarity in both movement and science. That's why he created this method where he can merge these two aspects of his life together, based on his past obsessions that have stayed with him: In movement, these include capoeira, parkour, bouldering, contemporary dance, meditation and yoga; while in science, he comes from a sustainability and environmental sciences background, but is also a big fan of evolutionary theory. At the moment he is working on a biological anthropology project about the patterns of human growth.
Eva K
YOGA
Eva first came into contact with yoga during her semester abroad in Canada. The aesthetics of the movements, the beneficial effect on body and mind, and a philosophy that invites one to look inward and practice with discipline and not out of false ambition fascinated her from the very beginning. Over 10 years she intensified her practice until she did an apprenticeship as a vinyasa yoga teacher in 2021 and yin yoga in 2022. Eva loves yin yoga because it creates space and gives us permission for qualities like slowness, introspection, passivity and pause in our hectic everyday life in the modern meritocracy.
Adri
YOGA
Adri fell in love with yoga in 2013, not only because it helped improve her posture, flexibility and body awareness, but because it also brought her inner peace. Her classes can range from relaxing and nurturing yin yoga to energetic and upbeat power vinyasa. No matter the yoga style, she likes to create funny moments entangled with lots of introspection during the practice. Her fluid sequences are filled with new and creative transitions, while offering options for each body type.
Samuel
SELF-DEFENSE
In 2005, Samuel discovered martial arts and has not stopped training it since. Starting with extensive training in Jeet Kune Do at a school certified by Larry Hartsell, an original student of Bruce Lee, he evolved into mixed martial arts, in which he competed and trained for more than 10 years. When he said farewell to active fighting, he took up coaching, about which he is equally eager. So when he is not working on his PhD, he is thinking hard about providing a training that is fun, systematic, and in accordance with scientific knowledge.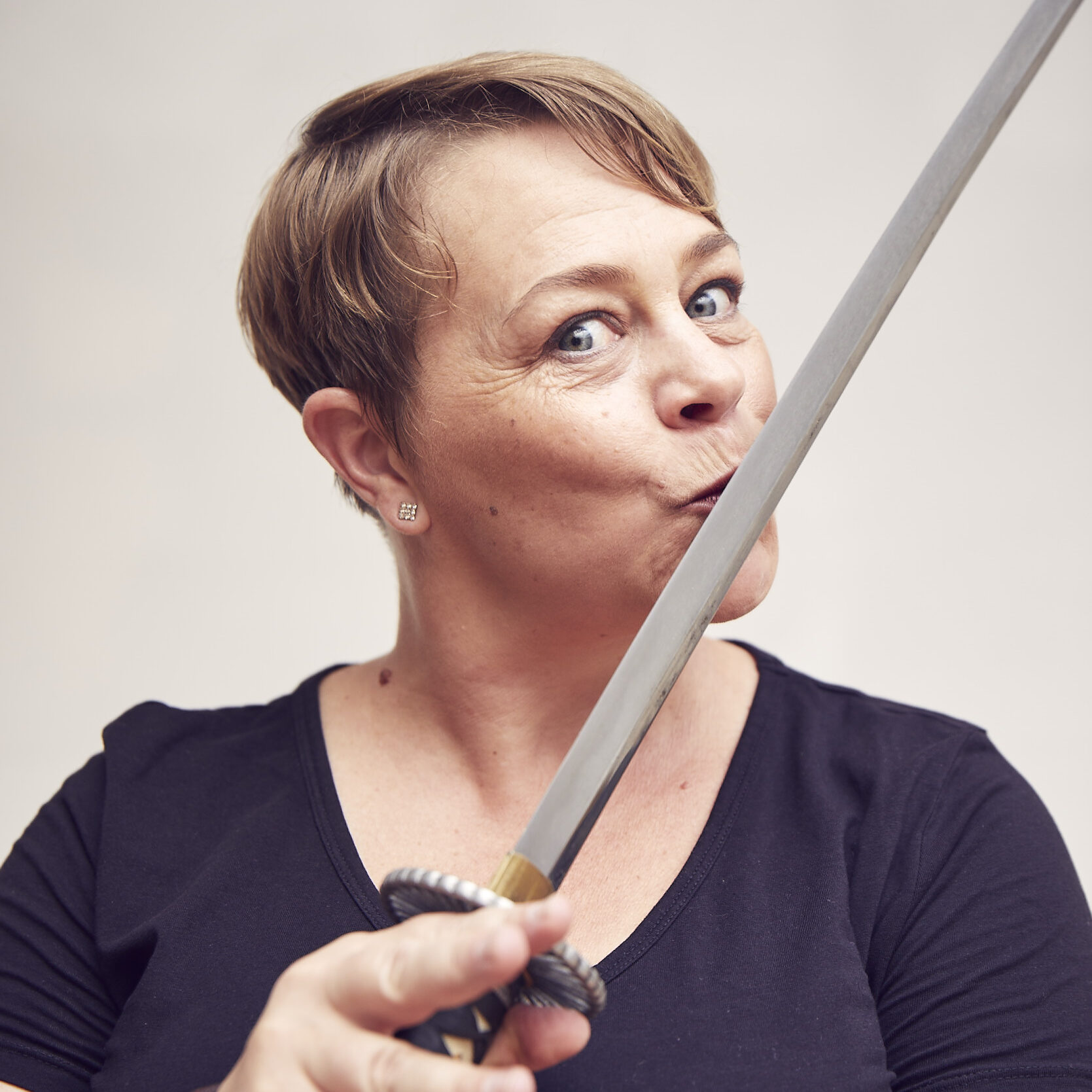 Susie
MARTIAL ARTS & FITNESS
Susie Kahlich is a 20+-year martial arts veteran and certified instructor in ninjutsu. She is a member of the American Bugei Federation and trained at Studio City Martial Arts in Los Angeles and Yamato Dojo in Louisiana. She helped establish the Bosen Chicago Dojo in the US and has trained at Tendo Dojo in Berlin. In addition to her teachers Chadwick Minge, Alan Friedman, Marc Hansen and Brian Simmons, she has worked with Philip Dao in Berlin, Edward Hines and Luo Dexiu in Paris, and Jesus Galvan in Chicago. She is also the founder of Pretty Deadly Self Defense.
Mert
SELF-DEFENSE
Yin & Yang Self-Defense is about balance, combining opposite but interconnected forces when it comes to training. Mert came up with this concept, which includes self-defense techniques, resistance training, and meditation, all in one session. He believes that physical health and mental health improves a lot more effectively if they are trained together. You can join his sessions to improve your overall health; not just to get stronger, but also to feel more connected to yourself. And of course you will learn techniques that you will really enjoy practicing, but hopefully never have to use.
Beth
CALISTHENICS
Beth started training calisthenics in 2019, and after getting their first unassisted pull up, became obsessed with the sport. In their classes, people from all backgrounds and abilities can start and progress on their calisthenics journey, and unlock the beautiful things their bodies can do with patience and consistency.
Semiramis
DANCE
Semiramis is an interdisciplinary performance artist and dancer from Αlexandroupolis, Greece. In 2020, after completing her studies of 2D Animation and Film Making at Gobelins Paris, she relocated to Berlin to further her practice of blending dance, live performance, drawing and video art. She creates and performs, curates and takes part in improvisation and instant composition events.
Svenja
YOGA
Svenja found yoga 15 years ago as a form of sport. Today it is so much more. Since she tried jivamukti yoga, she has discovered a deeper understanding and sense in her yoga practice every day: "Yoga means to yoke – to union. To me it is not only the daily routine of asana practice. It is a union with my body and my inner self and it feels like coming home." Come and try!
Lydia
POWER YOGA
Lydia has been teaching yoga since 2019. She discovered yoga while living in China in 2016, where practicing yoga quickly became a great passion and big part of her life. She completed her yoga teacher training at the Yoga Barn in Bali in 2018. "To me, yoga means so much more than just practicing asana; it is an art we can incorporate into everyday life." In addition to practicing yoga, Lydia loves every form of creative expression – music, photography, writing and painting.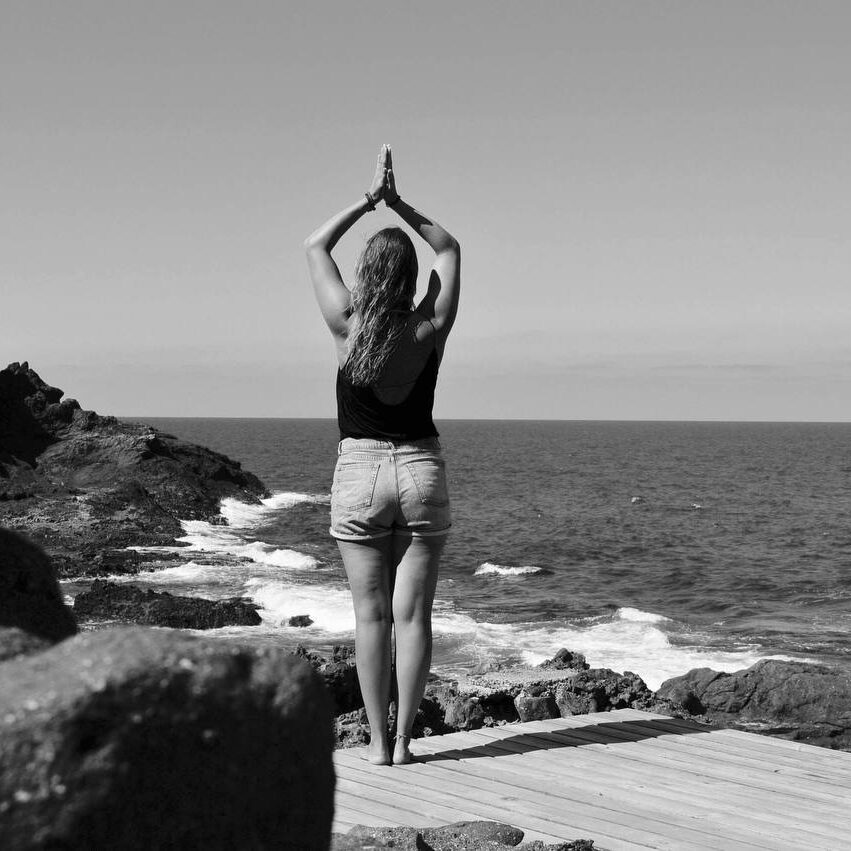 Christin
YOGA
As a nature-loving globetrotter, Christin has practiced yoga here and there — on and off the mat. While completing her teacher training in 2018 in the Canary Islands, she realized that yoga feels like home, letting her wander without getting lost, offering both freedom and guidance. Christin likes incorporating these concepts into her classes — guiding through creative, dynamic and energizing vinyasa flows, linking conscious breath with fluid movement. The practice holds space to move gentle and freely while clearing the mind, focusing on the practice and arriving in the moment.
Why Flow Motion?
Creative Workouts
Why should working out be a chore? At Flow Motion Studio, we are serious about reaching our fitness goals — as well as having fun while doing it. With acroyoga as our background and inspiration, we strive to combine playful and social elements into all our classes while challenging both your body and your mind. Build strength, stamina, balance, and agility without even realizing it. Even you will be impressed at what you're able to achieve.
Safety First
We want to provide you peace of mind so you can focus on pushing your limits. Our seasoned instructors will ensure that you learn the proper techniques in class to make your workout safe, effective, and fun. With tatami mat flooring in our acrobatics room and thick practice mats available, you will be spotted every step of the way. Plus, we generally tend to look out for one another here.
Community
You don't need to do it all on your own. When you join one of our classes or events, you are joining our family — a group of like-minded individuals who will support you. Our studio is our second home and we hope it becomes yours too. When you're done with your workout, feel free to relax on our comfy couches and get to know your new buddies. Or don't, if you need some alone time after a stressful day — family members can respect that too.