Self-Defense & Martial Arts Classes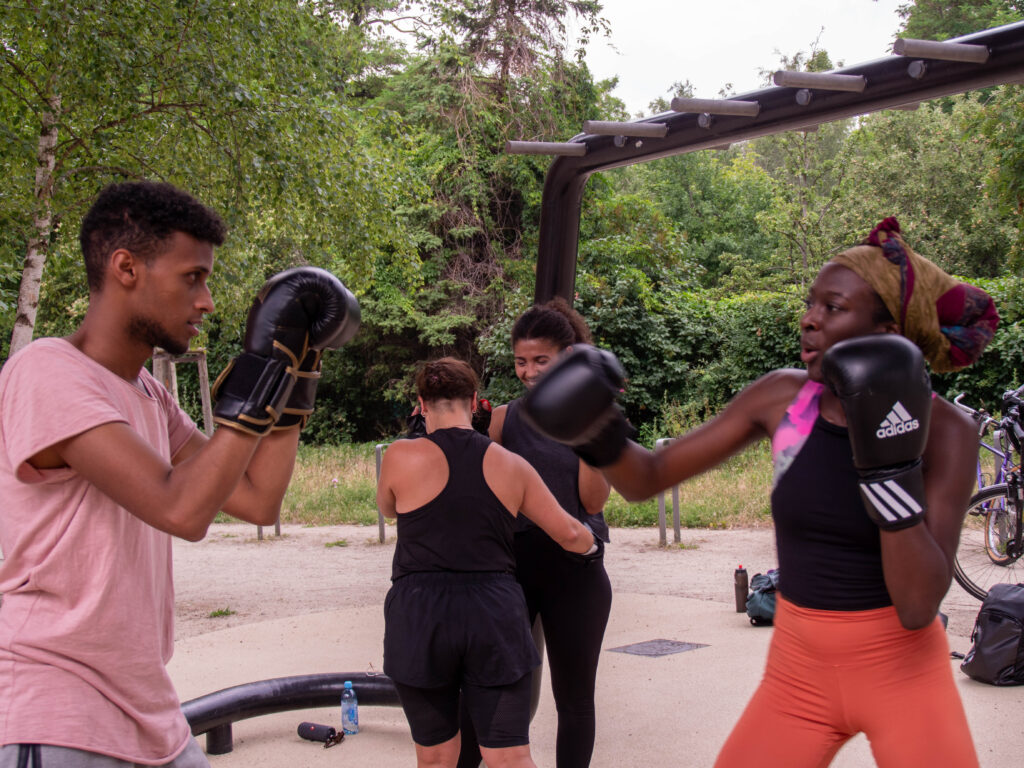 Krav Maga
As a reality-oriented self-defense system, the Israeli Krav Maga ("contact combat" in Hebrew) offers pragmatic solutions for all conceivable attack and threat situations by one or more unarmed or armed perpetrators, not only to defend oneself but also third parties. The system is reflex-based, with adaptable and effective techniques. Through continuous repetition of techniques, practical exercises, sparring and situational training in realistic environments, the skills learned are deepened and automated so that they can be called up quickly, even in stressful situations. Regardless of age, gender or physical ability, Krav Maga can be learned very quickly compared to other systems and does not require any special previous knowledge.
Mondays | 20:30-22:00 | Wedding with Evolution Gym. Auch auf Deutsch.
Fridays | 18:00-19:30 | Wedding with Evolution Gym. Auch auf Deutsch.
Kung Fu
Traditional kung fu is a self-defense practice that develops physical conditioning, discipline, and balance. Jorge comes from a traditional Chinese martial arts school of the Tan Lang Quan (Mantis fist) kung fu lineage that follows the teachings of the Chinese master Sun Deyao. We demonstrate to students that martial arts serve as a way to achieve a better quality of life. Our mission is the improvement of lifestyle, health, wellness, and balance within an inclusive environment that respects the developmental stages of each individual. During training, we will work on individual exercises and structures of combat in partnering formats, working on punches, kicks, falls, and martial sequences.
Saturdays | 10:00-11:00 | Neukölln with Jorge B. Auch auf Deutsch.
Ninjutsu
Ever want to learn how to be a ninja? Ninjutsu is a comprehensive martial arts system that consists of both samurai arts and the art of the ninja. Ninjutsu includes strikes and kicks, throws, rolls and falls, joint manipulation and locks, leverage and grappling, as well as traditional weapons such as sword, long and short staff, knife and fan.
Fridays | 19:00-21:00 | Neukölln with Susie. Women and women-identifying only.
Saturdays | 11:00-13:00 | Wedding with Susie.
Self-Defense (Ground)
The majority of street altercations involves fighting on the ground. Get an edge on the attacker by learning the intricate art of ground fighting. In this class, we exercise sweeps and submissions off the back while somebody is trying to punch us, as well as controlling a person so nobody gets hurt. Techniques from Brazilian jiu-jitsu build the core of this course. It is especially interesting if you want to learn to defend yourself against bigger stronger opponents.
Mittwochs | 18:30-19:45 | Neukölln mit Flowzone (Samuel). Also in English.
Self-Defense (Standing)
This course is dedicated to the standing portion of self-defense. You will learn to strike, kick, block, close the range, get out of chokes, and a lot more! But at the same time you will get your sweat going and get a great cardio and strength workout in. Expect a well-thought out combination of muay Thai, wrestling, boxing, Jeet Kune Do, and Brazilian jiu-jitsu.
Montags | 19:15-20:15 | Neukölln mit Flowzone (Samuel). Also in English.
Yin & Yang Self-Defense
Do you want to learn how to protect yourself in a peaceful setup? In these sessions Mert will guide you through sharp self-defence techniques, strength and mindfulness.
After each training, he closes his sessions with a meditation that varies among breathwork, affirmation, and gong practices. With the physical part of the session you will feel strong; with the technical part you will feel confident and the closing meditation will make you feel safe and happy.
Yin & Yang Self-Defense is about balance and combining opposite but interconnected forces when it comes to training.
Fridays | 19:45-21:00 | Wedding with Mert. Auch auf Deutsch