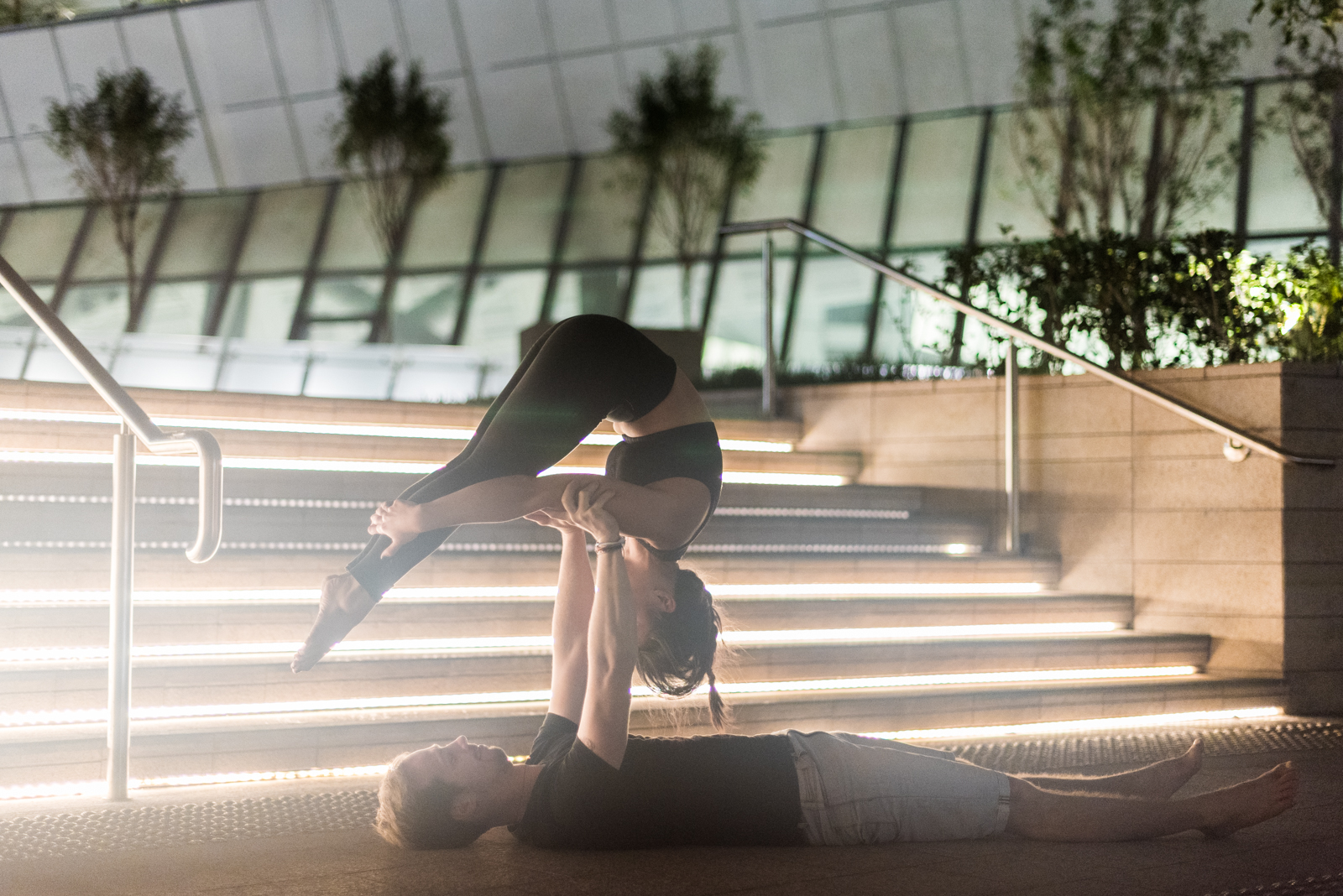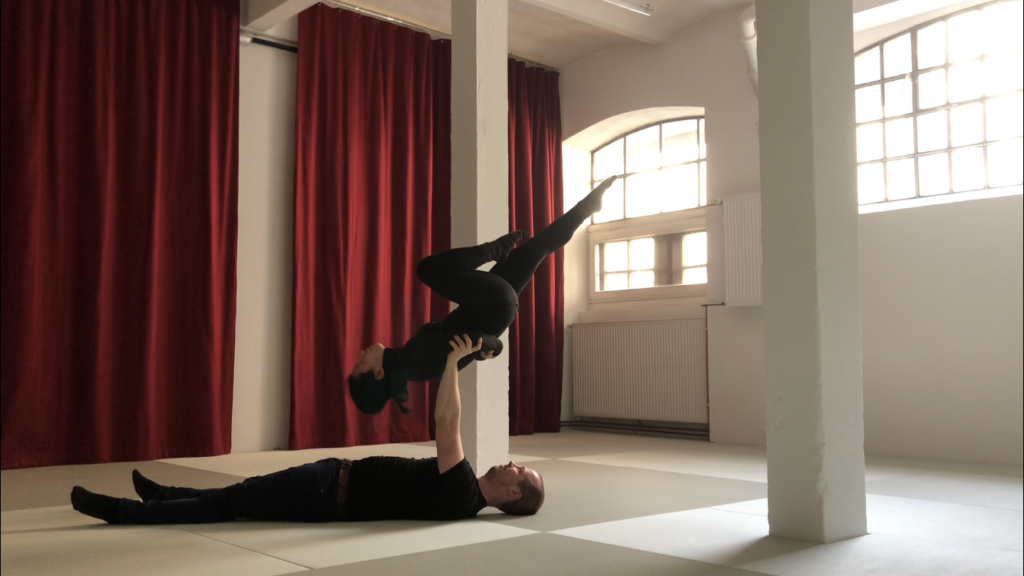 Acroyoga combines the power of acrobatics with the mindfulness of yoga, connecting two (or more!) people in a playful way. And it's easier than it looks! Because it uses technique instead of, say, strength, anyone can learn acroyoga — regardless of age, gender or size.
A regular acroyoga practice will help improve strength, balance, flexibility, coordination, and spatial awareness — a truly holistic workout that can be enjoyed with friends! By working together, we also learn how to build trust, communicate effectively, and reach new heights with each other.
Which class is right for me?
Intro to Acroyoga: Learn the fundamentals of acroyoga through basic poses and easy transitions that will give you confidence to tackle more advanced skills.
Level 1 (Advanced Beginner): This class presents extra challenges for beginners by linking together basic poses into flows. Both classic, well-known washing machines and original flows are taught.
Level 2 (Intermediate): The skills learned in this class are geared toward those with more acro experience or keen body awareness. Each class is based around an original flow consisting of mostly basic poses, with some funky and more challenging transitions.
Level 3 (Advanced): This class focuses on more dynamic and creative transitions through original L-basing and standing flows. It will also explore advanced skills such as hand-to-hand, pops, whips and hands-free movements. Best suited for people with a solid grasp of acroyoga fundamentals.
All-Levels: This class has something for everyBODY: mastery of fundamentals, steady progressions, and dynamic and unique skills for more advanced practitioners.
Standing: Unlike in L-basing acroyoga, the base is standing in standing acro. It is not necessarily more challenging than L-basing, nor does it require much more strength. Read more about our standing acro classes.
Do I need a partner to participate in an acroyoga class or jam (open training)?
Absolutely not! While acroyoga is a partner sport and you will be practicing in groups, you do not need to come with a partner. In fact, we encourage participants to mix and mingle to help gain a deeper understanding of how their own bodies and other people's bodies work.
Don't let that get in the way! Acroyoga tends to foster an open atmosphere, and we do our best to ensure participants are comfortable with each other. You don't have to come with the intention of making friends, but don't be surprised if it happens.
As with every sport, there are certain physical risks to doing acroyoga. To minimize these risks, in addition to teaching and demonstrating proper safety measures, we always practice in groups with at least one spotter (or more if needed). Spotters help ensure that flyers still land safely in the event of a fall.
What safety equipment do you have?
Our entire acroyoga room floor is outfitted with tatami mats used in professional martial arts training and competition — specially designed to protects athletes by absorbing impact from falls.
We also have thick (4 cm) roll mats and crash mats in the studio.
How should I prepare for an acroyoga class? What should I bring?
We recommend wearing comfortable clothes that you can move in (regular sports clothes will do just fine), water, and a towel if you tend to get sweaty. Most importantly, bring an open attitude and be ready to play!
In terms of etiquette, please keep in mind that acroyoga is a close contact activity. It would be considerate of others to be mindful of your personal hygiene before coming to class.
Please also observe our general studio rules.
We're happy to answer them! Write or call us here.