Acroyoga Teacher Training
15 – 26 May 2023
Join us for our acroyoga teacher training in Berlin, Germany!
Our course is designed for people who want to share their love of acroyoga and partner acrobatics with their friends, family, and wider community. You will be able to not only train intensively and refine your acro skills, but also develop a wide range of other skills that will enable you to lead classes and workshops.
What You'll Learn
Over the course of 10 days (80 hours), you will gain knowledge in how to train and teach acrobatics safely and intelligently, hone your communication and leadership skills, and learn ways to cultivate and facilitate a community.
For who? For YOU!
This training is focused on those who want to become acroyoga teachers or who want to understand the practice from a pedagogical aspect. Participants will deepen their knowledge, taking both their understanding and practice to the next level.
You do not need to have previous teaching experience or already be "good" at acroyoga to join. Likewise, even if you are already an "advanced" practitioner or have taught before, this training will help to develop and refine your skills, so that you can better share your knowledge with others.
Important Info
Dates: 15 – 26 May 2023
Location: Flow Motion Studio Neukölln
Investment: €1200 (early bird by 15. March) / €1400
10% discount for training duos
Application deadline: 05 May 2023

Course times will be Monday to Friday from approx. 08:00 to 17:00 each day. The weekend will be free. Price includes 80 hours (8 hours per day) of instruction, practice and training time, all course materials, continuing mentorship, and an official certificate of completion (you must have attended the whole course).
Not included are accommodation, food, and travel costs. Please let us know if thee costs may create financial hardships for you, and we'd be happy to work out a fair solution for you to attend.
Do make sure you meet all the prerequisites for the teacher training! We have prerequisites to ensure our training group meets on one level. You don't have to be perfect, but please make an honest self-assessment of your skills. If you have any questions, don't hesitate to contact us.
Ready to Apply?
Please note these details!
Application Process
Complete and submit this form.
Email us a video of you performing the prerequisites to hello@flowmotionstudio.de. A YouTube link is best. Alternatively, you can DM us a reel on Instagram (@flowmotionberlin).
We will review your submissions and confirm your acceptance to the program via email within 3-5 days.
To secure your spot, a deposit of 50% of the program fee must be made by 15 April 2023 (15. March for early bird). The remainder must be paid by 05 May 2023. To receive the early bird price, you must pay in full by 15 April.
Cancellations: Deposit payments are non-refundable after 15 April 2023. In the event the teacher training is canceled, you will receive a full refund of any amounts paid.
Prerequisites
Base AND fly 30 seconds of the following poses, including entry and exit: bird, reverse bird, straddle throne, shoulderstand (supported or free), star, and reverse star.
Base AND fly a ticktock (side star to straddle bat to side star on other leg), both directions without the flyer coming down
Base OR fly the following sequences: foot-to-hand to butt sit exit, pop from bird to throne.
15-second handstand, including entry (any kind) and exit.
You may use spotters for safety reasons, but they should not be supporting the movement to a major extent (except for the handstand).
We are not looking for perfection! We just want a good overview of where you currently are in your acro practice.
Your Instructors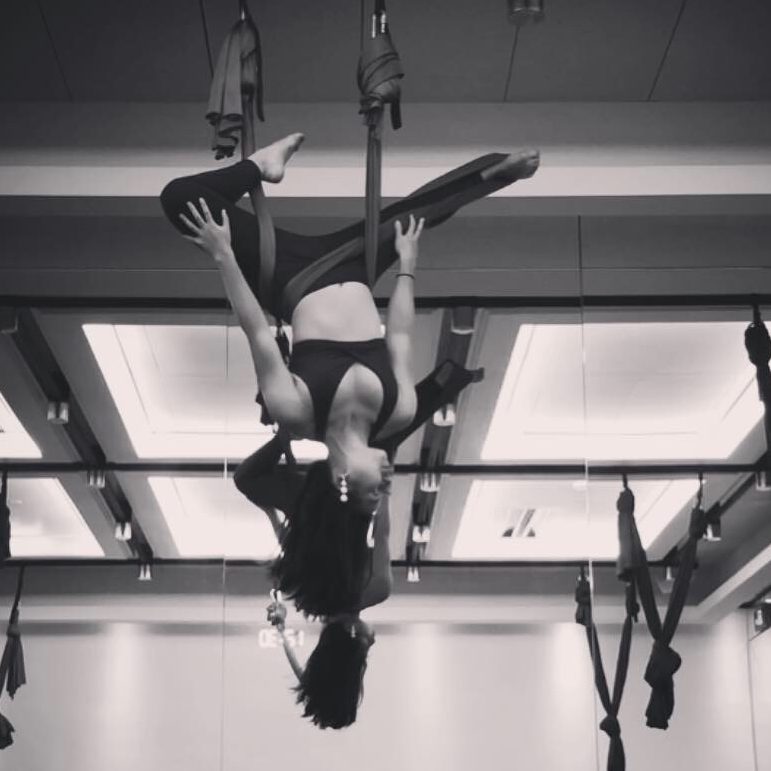 Patrick & Johanna fell in love with acroyoga in Beijing. After discovering they shared a passion (and a subway line), they decided to form Line 2 Acrobatics with the goal of building up a community where people could connect, create and push their physical limits in a playful, supportive environment. They completed their teacher training in 2019 and began teaching regular classes and workshops in Beijing. Soon after, they moved to Berlin, where they quickly resumed teaching. Now they run two studios and are constantly trying to think up new ways to spread acro joy.