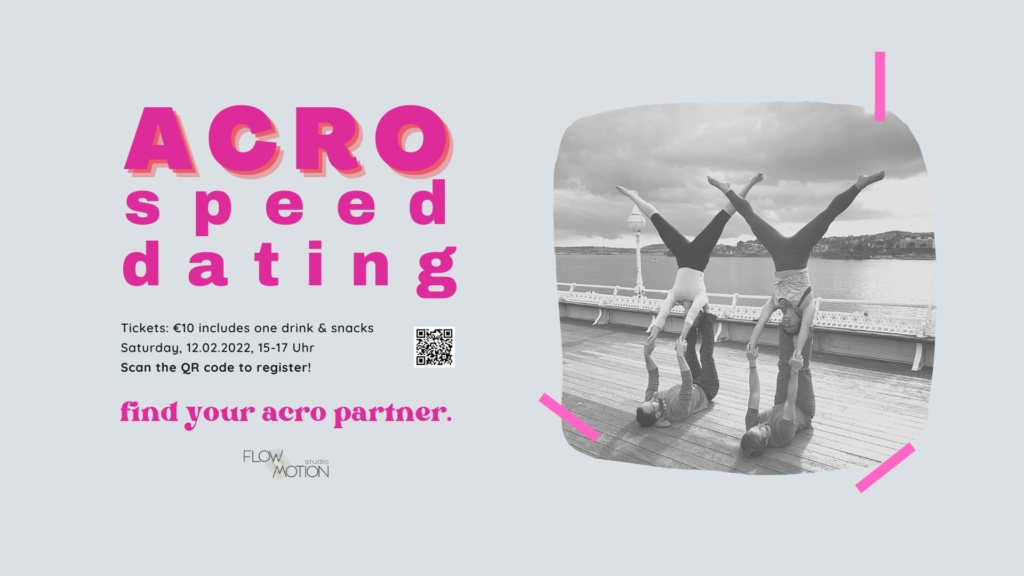 Samstag, 12. Februar 2022, 15-17 Uhr
Saturday, 12 February 2022, 3p.m. – 5p.m.
10€ per person / includes 1 soft drink and snacks
Looking for some buddies you can go to acroyoga classes with? Want a partner or two to train regularly with at jams? Or maybe you just need a way to overcome your shyness and meet some fellow acroyogis. Try your luck at our Acroyoga Speed Dating event!
We start with an all-levels mini-class to mingle and break the ice, before splitting into bases and flyers for 10+ rounds of acro speed dating. You will have approx. 5 minutes per round to test out each base/flyer, and at the end of the night, select which people you'd like to train more with. We'll let you know if there's a match!
IMPORTANT TO NOTE:
This is NOT an event for romantic or sexual hook-ups. We want to connect acroyoga partners, not life partners (although that's cool if it happens).
Consent is key to safety! For safety reasons, participants must stick to L-basing acroyoga for the event. Please respect each other's limits and only practice skills that you both are comfortable doing without a spotter.
2G+ applies. ALL participants, including boostered and recently recovered, must provide proof of a negative test result not older than 24 hours.
Register now by filling out our form at the link below!